Dr. Terry Straeter's
Retirement Quilt

Dr. Terry Straeter, President and CEO of Marconi Integrated Systems, Inc., formerly GDE Systems, Inc., will be retiring this summer, 1999. As a tribute to him and all he's done for us over the years, the employees of Marconi have pulled together to create a unique retirement gift, a signature quilt.
Sue Vanderveen and Sandi Delman, San Diego employees, designed the quilt. They made hundreds of four inch blocks that were passed out to the employees of the company for signature. Blocks were sent to all off-site personel from Hawaii to England. While Sandi assembled the signed, 4" squares, Sue hand appliqued the center F-16 scene. The quilt measures approx 80"x100" (queen size).
One of several retirement parties for Dr. Straeter is scheduled for Wednesday, Sept 1, 1999 in San Diego at the Rancho Bernardo Complex. The quilt will be presented to him at that time.
Thank you to all the employees who participated in making this happen. This quilt couldn't have been created without you. Below are a few photos of the quilt top.
For further information, please contact Sue Vanderveen, quilter and webmistress.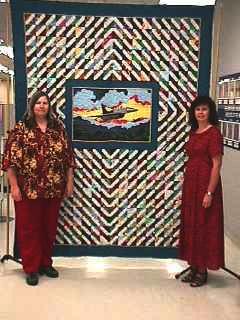 The Quilt
Sue Vanderveen and Sandi Delman

The center medallion-F16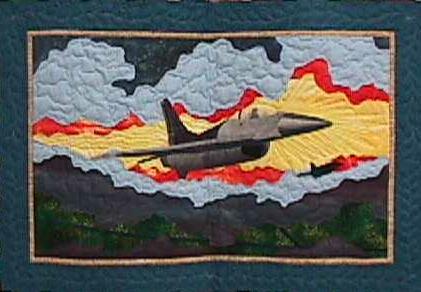 Hand dyed and painted fabrics, stenciled, hand appliqued, commercial pattern.
by Sue Vanderveen
Top left corner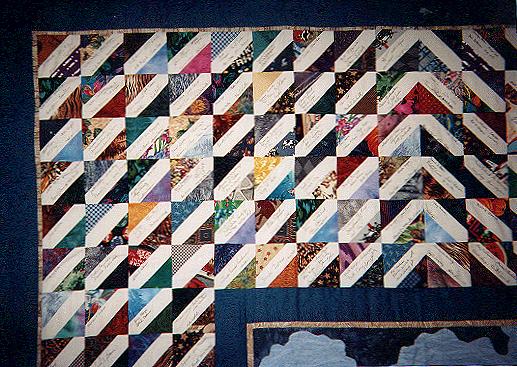 Thank you for being visitor #