San Diego Quilt Block
made for the national promotion
"Quilting For America"
in conjunction with the Broadway production of
Oklahoma
The national tour of Oklahoma is creating a large quilt to be displayed at a national museum at the close of the tour.
They are asking each city to create a 3 foot by 3 foot quilt to represent their city in which the play is preformed.
This is the quilt created to represent San Diego in response to this promotion.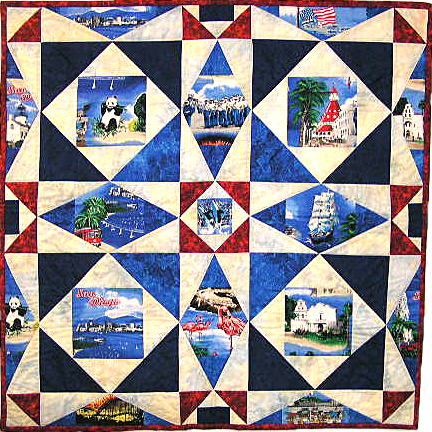 Quilt top made by
Darlene Sweetwood, Sandi Delman, and Sue Vanderveen
12/30/2004.

Close-ups of some of the blocks
Panda representing the
San Diego Zoo

The Hotel Del Coronado


Shamu representing Sea World





San Diego Skyline




San Diego Mission




Star of India


Flamingos at the
San Diego Zoo

The Marine Corp


San Diego Trolly and the Coronado Bay Bridge

Mexico

Roller coaster at Mission Beach

SDSU

Presidio

Point Loma lighthouse

Aircraft Carrier